PRICING
Choose the most fitting subscription plan for your organization
Basic
€ 250 / month
Up to 3 users
Named licenses
Paid annually
Subscribe
Standard
€ 1000 / month
Up to 15 users
Named licenses
1 Spinbase training session per year
Subscribe
15% discount available for the Standard option when paying 12 months in advance
Premium
Ask for a quote
Customized number of users
2 Spinbase training sessions per year
Subscribe
Limited offer for 2022
15% discount on all subscription plans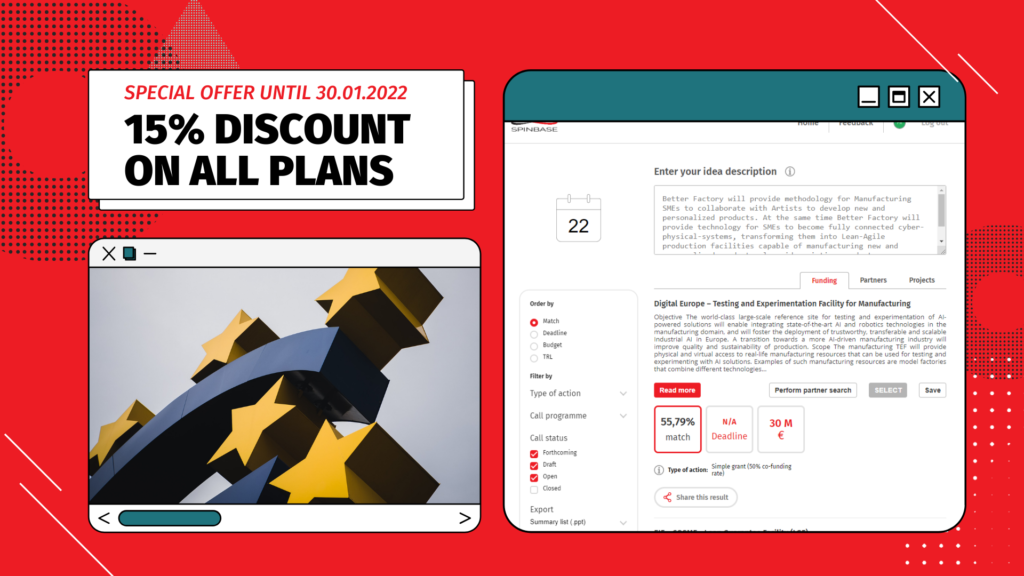 Work smarter! Our AI engine screens more than 30 EU funding programmes and over 60,000 organizations to match your R&D&I ideas with the most suitable calls, partners and projects – within seconds.
Start your 2022 by having a full awareness of relevant public funding opportunities!
Special time-limited offer until 30 January 2022.
GET A 2-WEEK FREE TRIAL AND 15% DISCOUNT ON ALL SUBSCRIPTION PLANS